I hate doing cuts on fashion posts, so please bear with me, f-listers who don't care.
Late reaction is late, but god, can I just say that
Giambattista Valli
's haute couture debut was
smashing
? Smashing enough to take my attention away from Givenchy, the usual apple of my eye. I loved the 1960s couture feel of it all, the shapes, the head pieces, the colors! There's also something very Valentino
glamour
and early Balenciaga about it. I love how it's all womanly and exquisite, all the details harkening back to a time when women were more deliberate about their clothing, (and being fashionable didn't mean mix and match, high-low, or stalking high street brands.) There's drama and restraint- it's the kind of clothes you would be visualizing yourself wearing in a dream wherein you were the lead actress of your own modern version of
Breakfast at Tiffany's
.

"On the day when he was finally able to realize his long-nursed couture dreams, Giambattista Valli rose to the challenge of tradition with a collection that threw down the gauntlet to anyone who would insist that this rarified métier is on its last legs."
- Tim Blanks
Giambattista Valli is usually so far removed from my tastes (come haute couture season, I almost always gush about the more cerebral, heady, if sometimes macabre collections, think Riccardo Tisci) but Valli's first foray into haute couture collection is just...perfection. Hands down the best collection this year!
My personal top looks (but it doesn't really mean anything, because every ensemble was sensational!)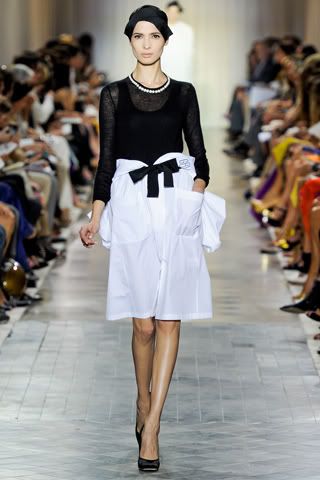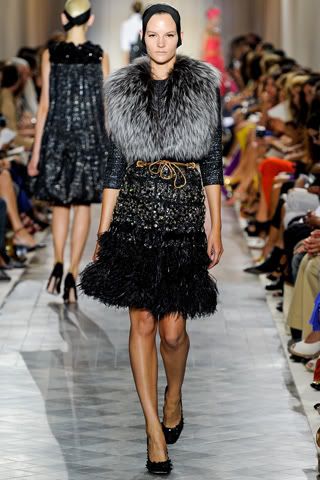 This red cape/dress debuted two days earlier than runway show; Charlotte Casigrahi, Grace Kelly's granddaughter (and also talk of town since she's Vogue Paris's September cover girl), wore it in ice blue for an occassi
I die for this last dress. DIE DIE DIE DIE DIE DIE DIE DIE DIE
DIE
(I'm a sucker for bows, seriously. And black.)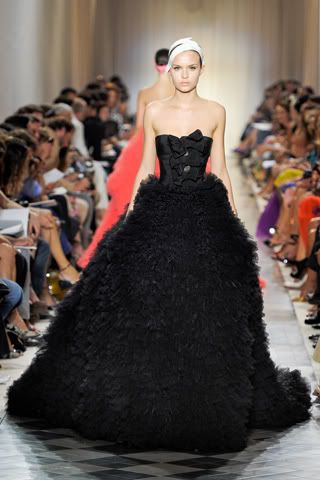 Check out the Giambattista Valli collection in its stunning and inspiring entirety
here
. You owe it to yourselves, women! I promise, it's so worth your while.